The Film – Before They Fall Off The Cliff
The Ripple Effect of Schizophrenia
---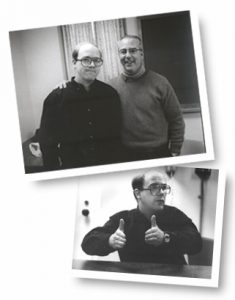 "My brother, when police asked him why'd you do it, "says Mark McBride, "he said he had to kill my parents because he was going to prevent World War III. He thought he was doing the right thing."
In 1994, Matthew McBride, the youngest son of a suburban St. Louis, Missouri family, was fighting a difficult battle with paranoid schizophrenia. The imaginary voices in his head convinced him that his parents were the enemy, that if he killed them he could prevent World War III. Although most people with schizophrenia are not violent, Matt stabbed to death his mother, Nancy McBride, a devoted St. Louis Cardinals baseball fan and his father, James McBride, a successful rental car business executive and Harley-Davidson motorcycle enthusiast. "Before They Fall Off The Cliff" details what happened to the McBrides: the violent deaths of two loving parents, the suicide of Matt's psychiatrist, Matt's heroic struggle to regain his mental health and the complicated and painful relationship among the McBride siblings.
Art Holliday is the Director, Producer and Writer of "Before They Fall Off The Cliff". Art also videotaped much of the documentary as well as serving as still photographer. Art is a news anchor and managing editor of Today In St. Louis, KSDK-TV's top rated, two hour morning newscast. Additional videography was performed by Chuck LeRoi, Dana Christian and Jon King. King, an award-winning editor at KSDK, edited the documentary. Original music is performed by St. Louis musician Javier Mendoza.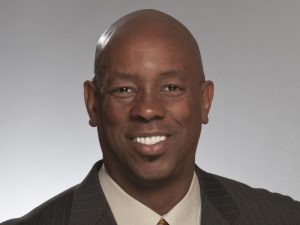 Photos
"I committed a horrible crime." That's how Matt McBride describes the day when mental illness shattered his life and the lives of his family members. "I was suicidal. I didn't care if I lived or died. That was just the bottom line. I didn't care about anything and I was very sick. Don't ever act out or do anything against the law. That's the main thing. Just find help if you can," advises Matt in the documentary "Before They Fall Off The Cliff".
"I think that's maybe something that the average person can't comprehend," says Dr. Elaine Larson, Matt's former psychologist at the Fulton State Hospital, "that an invisible voice could convince you to kill the people you love the most." In the documentary, Dr. Larson explains the mysterious power schizophrenia has on Matt and other people with schizophrenia, and talks at length about the difficulty Matt has dealing with the fact he murdered his parents. "Matt was very psychotic and very suicidal when he first came into the facility. Memory problems. He could not remember any of the events surrounding his parent's death. He knew he had killed his parents and that's why he was so depressed." Because of remorse and depression, Matt twice tried to kill himself at Fulton State Hospital.
Matt's relationship with Dr. Larson is central to his battle against mental illness. "She's very dear to me," Matt says. "I love her. She's helped me big time. I don't know how to explain it, but every step of the way she's talked with me and explained all my problems. I've talked to her about all the years of my life and she just listens. She's a good friend."
Larson praises Matt's family, especially his brother Mark McBride and his sister Lisa Uxa, for providing emotional support. "He still can't quite comprehend that they still love him after killing his parents, but he just looks forward to every visit, to every phone call, to every gift that comes in," says Dr. Larson.
Matt says "my family has stuck behind me one hundred ten percent", but forgiving their younger brother was not easy for Mark McBride or Lisa Uxa. "That's a good question," Mark says, "to ask me if and when I forgave my brother, because in so many people's mind it would be impossible to forgive anybody who killed your parents. When it's your brother who killed your parents I guess it could go either way." Lisa Uxa says "when people get killed, when they're murdered, the family members have someone they can hate. You can hate someone, the person that murdered your loved one. I can't hate him. He had a disease and it was a disease that was out of control."
Since his parents' murders, Mark McBride has become an advocate for the mentally ill. He says he wants to get help for the severely mentally ill "Before They Fall Off The Cliff" of brain disease. Mark's goal in allowing his brother to be featured in this documentary is to increase public awareness of mental health issues. "Brain disease is something that society has to stop ignoring and has to put in the forefront where it really belongs," said Mark McBride. "It's truly in my estimation America's number one social disease and until some people start reducing the stigma and putting faces on televisions and bringing real life to this situation, things are going to continue on. And I'm going to try to make a change with that and it's something my family and my brother both would like to do because we don't wish this or want this to happen to any other family, what's happened to us."
Although Matt became dangerously violent, only a small fraction of people with schizophrenia are dangerous and commit violent acts. That's usually because they refuse treatment, cease taking medication, or can't tolerate the side effects of medication. During the documentary, Matt McBride talks openly about why he often refused to take the medication that controlled his schizophrenia (he thought it would make him impotent) and how much better he feels now. "It's given me a whole better understanding, a better way to improve myself, help myself. You've got to take your medication, got to take it. And you've got to listen to your doctors. You gotta listen to your parents, gotta listen to your family, people who care for you, 'cause that's all you've got."
A key reason this documentary was completed is the cooperation of the Missouri Department of Mental Health and Fulton State Hospital. Dr. Roy Wilson, former head of the Missouri Department of Mental Health, gave his full support to this project, authorizing unprecedented access for my documentary crew to videotape at the Fulton State Hospital. During a two day visit in April 2001, documentary cameras captured a key moment in Matt's recovery: after seven years in maximum security, Matt was transferred to medium security. Although Matt was shackled and handcuffed during the transfer, he smiled and cracked jokes because he knew he was moving to a less restrictive environment and the transfer was a symbol of his improving mental state. At one point while Matt was receiving a tour of his new living environment, Matt innocently marveled at a red squirrel; he rarely went outside during his seven years in maximum security and hadn't seen a squirrel in years.
During that two day visit, we also videotaped Matt interacting with other hospital clients, performing his job assembling paint masks, participating in his ward government and playing drums and bass guitar in a band that is part of his therapy. In another visit, we were allowed to videotape Matt's ninety day treatment meeting where hospital staff members gather to discuss Matt's treatment plan. That plan includes Matt's medication, his hygiene, his weight control and diet, his job performance and his interaction with staff and other patients.
Another important supporter and participant in the documentary is author Wally Lamb. Lamb's number one best-selling novel "I Know This Much Is True," an Oprah Book Club selection, has striking similarities to the McBride story. After reading the book I contacted Mr. Lamb who agreed to let me use several brief passages in the documentary. In Lamb's novel, a man sacrifices his personal life to care for his twin brother who has paranoid schizophrenia. The brother with mental illness believed he could prevent the Gulf War by cutting off his hand, similar to Matt McBride's belief he could prevent World War III by killing his parents. In the novel Lamb wrote: "And the thing is he meant well." He wanted to stop a war from happening. How can someone cause so much pain when all he wants to do is help out the world? Like the fictional Birdsey brothers, the McBride siblings have a complicated, touching and painful relationship which provides the heart of this documentary about love, forgiveness and the ripple effect of severe mental illness.
In the aftermath of the double murder, Matthew's psychiatrist committed suicide. The psychiatrist had okayed Matt's release from St. Anthony's Hospital the night before Matt killed his parents. The McBrides sued St. Anthony's Hospital and settled out of court. Meanwhile, the McBride siblings and their families endured tremendous stress and emotional turmoil.